CV joint hard milling, CBN Turning CV Joint Recommend nserts

| | | | | |
| --- | --- | --- | --- | --- |
| | | | | |
| CBN Milling Tools | Diamond Dressing Wheel | CNGA CBN inserts | TNGA CBN inserts | DNGA CBN inserts |
Halnn Tools advantages
Tools have reasonable structure design, diversified and refined cutting edge processing;
Tools have long life, reduce the number of tool changes, improve processing efficiency, and reduce tool and labor costs;
Indexable CNC inserts, high machining accuracy, reduce tool setting time and improve efficiency;
Good wear resistance, can meet high-speed cutting, save time and reduce processing costs
Hard turning process of outer ball cage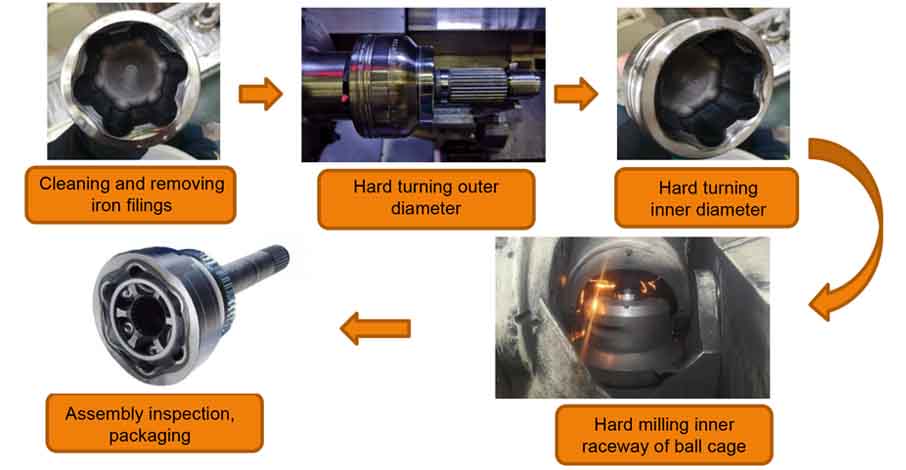 Cage, also called "CV joint", is an important part of the car's transmission system. Its function is to transfer the power of the engine from the transmission to the driving wheels to drive the car at high speed.
There are many types of CV joints used in cars, among which the most widely used are the ball cage type CV joint and the tripod type CV joint, mainly including sliding sleeves, three-way shafts, drive shafts, and star sleeves. , The main parts of the cage and the bell-shaped shell.
Outer ball cage: The steel balls of this ball cage are fixedly placed in the six windows of a cage between the star sleeve and the bell shell. The steel balls in the star sleeve and the bell shell have exactly half each To determine the angle of action with the universal joint at one time, the smooth surface treatment makes the universal joint move like a helical gear. The six steel balls push the respective star sleeve and the ball path in the bell shell. It's just that the torque is transmitted through the steel balls instead of the teeth of the gears.
Application Cases
Processing part: outer diameter of outer ball cage (total three parts)

Processing size: ø31.445, ø68, ø87.1

Workpiece material: Hardness steel

Workpiece hardness: HRC58-63

Processing procedure: finishing

Model: BN-H10 C25 (4165) CNGA120408S0015-4S (adding a Wipert)




Processing parameters:

ø31.445 Vc=140m/min, S=1447, Fr=0.35

ø68 Vc=172m/min, S=843, Fr=0.35

ø87.1 Vc=146m/min , S=534, Fr=0.45



Hardness:HRC60 CV Joint

Processing procedure: Finishing

Tool model: BN-H10 TNGA160408

Cutting parameters:

Vc=190m/min,

Fr=0.15mm/r,

Ap=0.15mm

Processing method: dry cutting

Inserts

Vc

Tools life

Halnn BN-H10

190m/min

370 pcs/tip

Other CBN inserts

170m/min

355 pcs/tip