Advantages of Halnn CBN inserts BN-S20 and BN-H10 hard turning ball screws
(1) High hardness, abrasive resistance and heat resistance
(2) Strong impact resistance, avoid the insert chipping, damage problem
(3) High speed cutting, improve the efficiency
(4) Dry cutting method reduce the pollution
(5) Long tool life, will be 1.5~2 times of traditional CBN inserts.
Recommend CBN milling inserts-Ball screw special milling inserts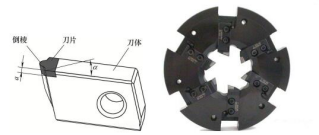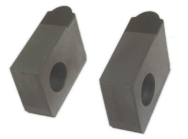 Application Cases
Materials and Hardness :Rolling Screw Gcr15, HRC60-62

Selected Insert:BN-S20 CNGN120708

Cutting Parameters:ap=4.5mm,Fr=0.10mm/r,Vc=95m/min,

Dry Cutting

Insert Materials

Cutting Speed

Cutting Depth

Failure Mode

Halnn BN-S20

95m/min

4.5mm

Normal Wear

Ceramic Insert

65m/min

0.5mm

Broken Damage
Workpice and Hardness : Ball Screw Thread, Gcr15, HRC60-62

Selected Insert: BN-H10 CBN Grooving Inserts

Cutting Condition: Fr=0.10mm/r, Vc=150m/min

Dry cutting

Insert Materials

Roughness

Failure Mode

Halnn BN-H10

≤Ra0.8

Normal Wear

Other PCBN

Ra1.2-1.6

Damage or Broken
With the development of the cutting technology, the cutting tools manufacturers researched new tool materials "cubic boron nitride" which can be use for turning instead of grinding, it will have Compressive stress when with traditional CBN inserts roughing the ball screw raceway, it will be easily make the insert chipping. Finally Halnn research non-metal adhesive solid CBN inserts BN-S20, solving the problems of chipping.